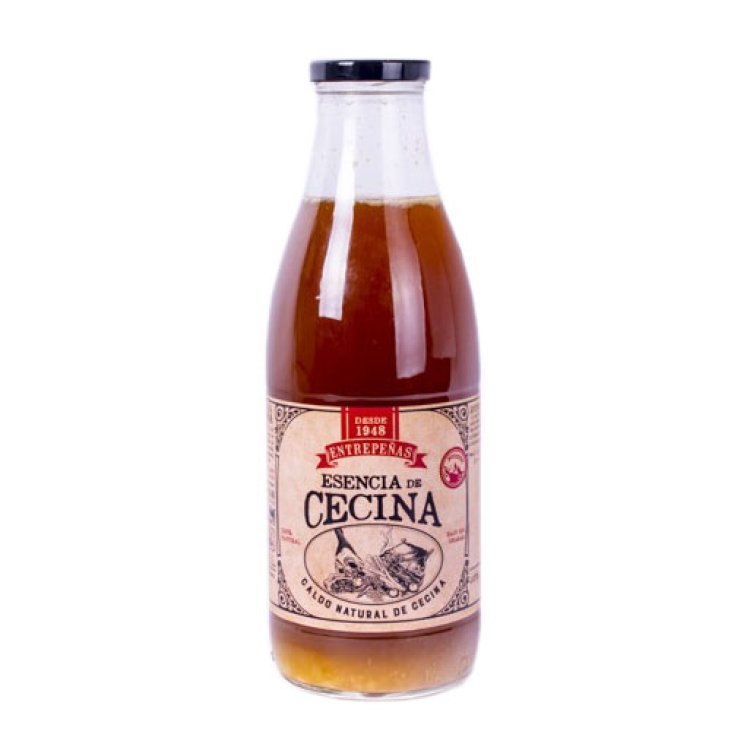 Description of product
Our latest innovation is a natural broth prepared the way our grandmother did with the use of fresh vegetables and a bit of Cecina de Leon instead of the usual chicken or the usual ham bone. The result is another extraordinary home-made product from Entrepeñas.
We select our Cecina de Leon and the freshest vegetables, carefully wash all vegetables, and cook all the ingredients with low temperature for more than 6 hours.
This natural home-made broth is low in fat, its extraordinary flavour and its gastronomic versatility make it ideal to enjoy as a broth, to use it as a soup for pasta or rice, or to use as a base to cook other dishes or sauces and confers them an outstanding and differentiating flavour.
'Esencia de Cecina' is the latest product developed by our restless R & D department and is produced by following the traditional ways of the home-made cuisine.
'Esencia de Cecina' is prepared with the best beef ham produced in our own factory in Geras Gordon. The Cecina de Leon is accompanied by loin, pork ham, peas, carrots, leek and celery.
All the ingredients are simmered for more than six hours which give as a result this outstanding broth. We have been investigating during more than two years to obtain this completely natural high quality product. It contains neither gluten nor lactose and is free of any dyes or preservatives following our business line in which we endeavour to follow the tradition of our grandmother and provide customers with the best homemade products.
This natural broth has been developed with the clear aim of filling the vacuum as it is very difficult to find high quality natural broths in the market. However, we have decided to go even further and elaborate it with an exceptional product such as our Cecina de Leon.
Since almost 70 years we are striving to combine innovation with respect and pride by traditional methods. This product, together with our spreads is the summum of our investigations.
Ingredients: Water, dried beef (Cecina), pork loin, cured cured pork ham, peas, carrot, leek, celery and sea salt.
It does not contain additives, preservatives or dyes. In Entrepeñas we use only top quality raw material.
Información nutricional por cada 100g:
Valor energético: 17 Kcal / 72 KJ
Proteínas: 2,38 g
Hidratos de carbono: menos de 2 g
de los cuales azucares: menos de 0,5g
Grasas: 0,85 g
de las cuales saturadas: menos de 0,05
Hidratos de carbono: inferior a 2 g
Sal: 1,03 g