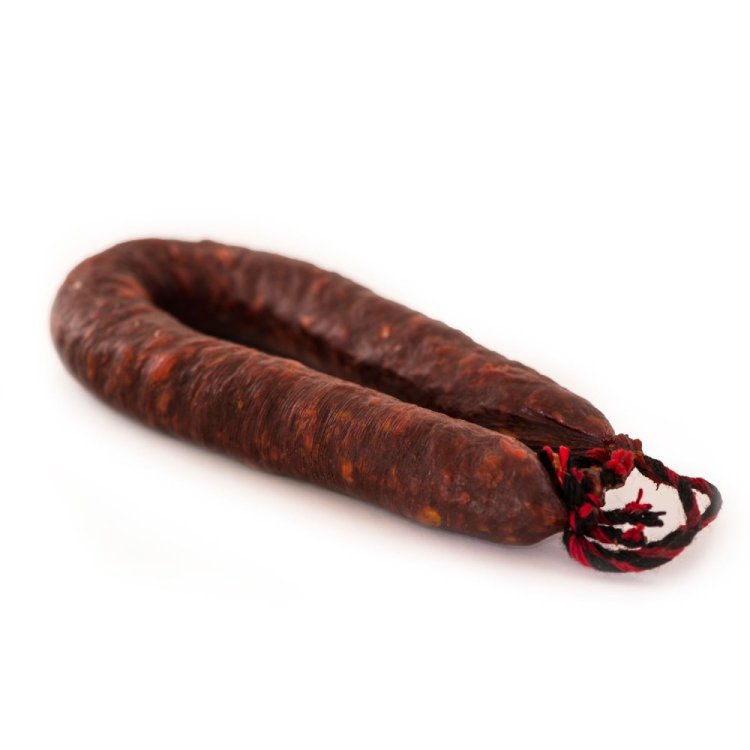 Description of product

This unique sausage typical from the city of León is produced from our best bits of ham combined with a mass of lean and fat pork meat, mixed with salt and natural garlic and "Pimentón de La Vera" (a sensational paprika with protected designation of origin.
Exquisite in all its forms, you can choose between spicy or sweet-and-sour flavour, stuffed in a particular and cular gut (thick gut), which preserves the product's tenderness for longer, or, if you prefer, stuffed in normal gut, with the characteristic horseshoe shape.
Gluten free
Storage conditions and use
Store in a cool, dry place.
It is recommended to remove from vacuum 15 minutes before consuming.
The bag may lose vacuum for different reasons. This will not be a reason for a claim after 10 days of delivery. If a veil of white mold appears from the ripening process (harmless to health), it can be cleaned with a damp cloth or oil and consumed safely.
Ingredients
lean pork (ham), bacon, paprika from La Vera D.O., fresh garlic in nature, Mediterranean salt, natural tripe.
< Back