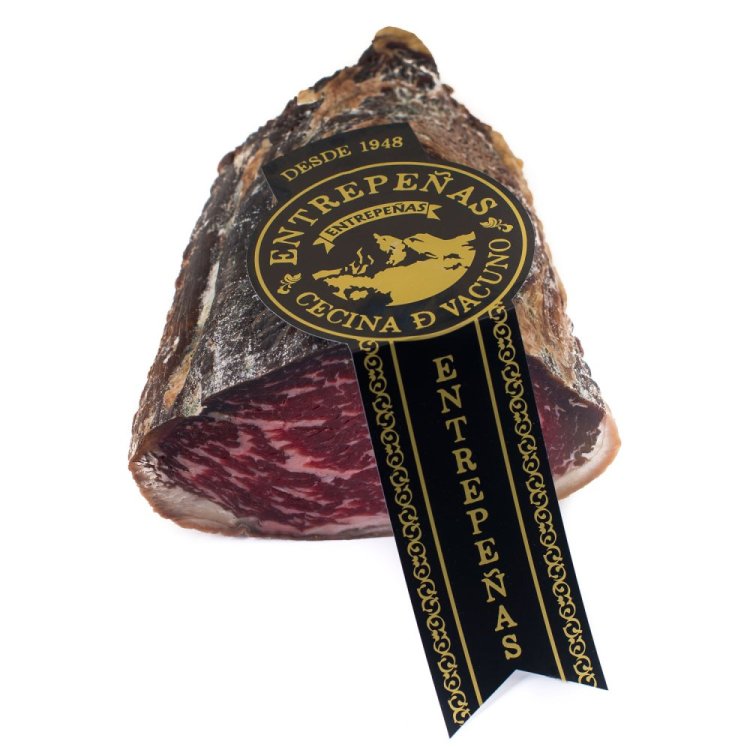 Description of product
In our quest to achieve excellence in beef ham, cecina, at Entrepeñas we continue to research and develop Cecina of different breeds of beef that no one has produced until now and that we offer you exclusively so that you can have the privilege of trying these national and international delicacies and giving us your opinion.
We select the best parts meticulously and accompany them throughout the process to guarantee the best traceability and obtain a result with the highest quality.
For us it is a real pleasure to share the best moments with our clients. Any time is magical to enjoy our "breeds cecina"
We tell you a little about the Angus breed that is so fashionable in the gastronomic world today.
The Angus Black breed is one of the three most recognized meat denominations in the world. These are young 24-month-old cattle fed corn for the last six months. This meat stands out for its succulent flavour and special tenderness.
The animals of the Angus breed are characterized by having black fur (although sometimes it is red), and by not having horns, a very interesting characteristic for their producers.
The Angus breed is a meat producer, it is recognized for its reproductive precocity, maternal aptitude, longevity and great adaptation to any type of climate. Due to its genetic genetics, it contains good muscular masses of meat where a special tenderness, flavour and unmistakable juiciness stand out.
The aim of this selection, which was originally made in Scotland (Angus) in the 19th century and which has been improved and exported to all continents today, is to create a higher quality of meat to satisfy the most demanding palates.
Angus beef cattle are fed a 100% vegetarian diet from birth.
Their diet is entirely corn-based. Without hormones or food additives, they grow in a calm and restful environment and have enough space at their disposal that favours their natural behavior.
Our jerky is made with 100% pure BLACK Angus fed with corn for 200 days.
Ingredients:
Beef and Mediterranean salt

Información nutricional por 100g
Nutritional information
100g
Energy value
1214 kJ
290 Kcal
Fats
Of which saturated
14,8 g
6,9 g
Carbohydrates
Of which sugars
<0,5 g
<0,5 g
Protein
36,5 g
Salt
5,1 g
< Back